1250 hp Synchronous AC Motor
When your AC motor fails or is not working at capacity it can put a big dent in your plant's production.
We can get your AC motor not only repaired humming along better than it ever did but also set up for preventative maintenance to keep you on top of your game.
If you are in crisis mode, you can not only take advantage of our 24×7 emergency service, but it is sometimes possible to find a spare replacement motor for your use while your motor is being repaired.
Spina Enterprises can repair all different types of AC Motors:
Synchronous Motors
Sleeve Bearing Motors
Explosion Proof Motors (UL Listed)
Design D (High Slip Motors)
AC Slip Ring motors
Medium Voltage (2300 – 4160 VAC) motors
Random Wound Motors
Form Wound Motors
Ball Bearing Motors
Vertical Pump Motors
Servo Motors (DC)
Submersible Pumps
Crane Motors
AC Synchronous Motors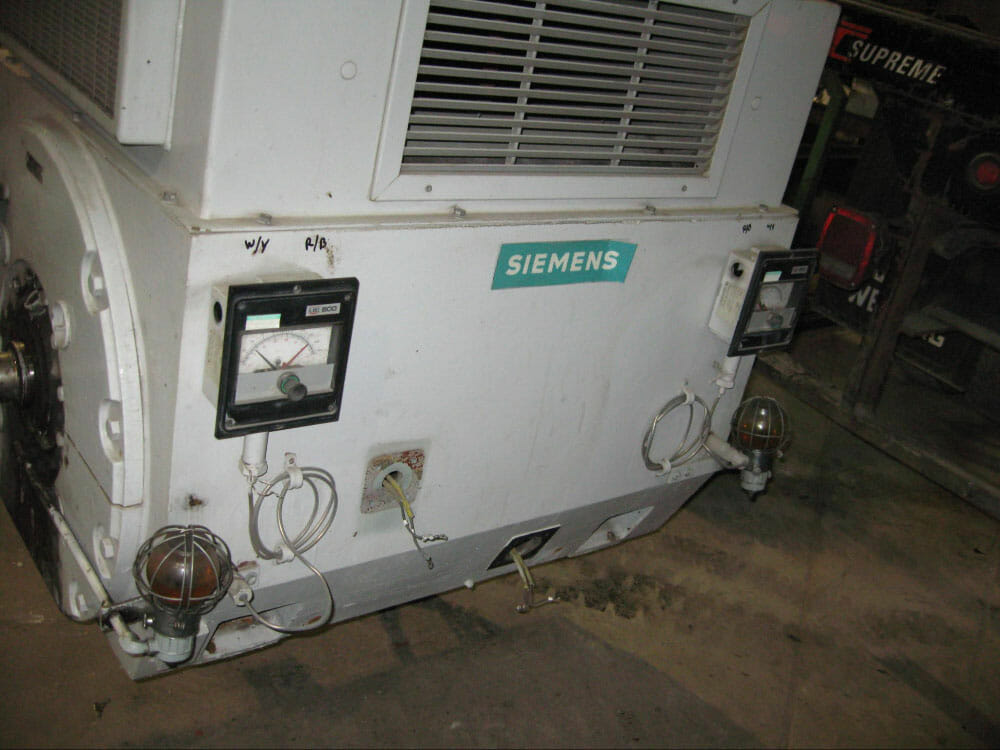 800 hp Siemens Sleeve Bearing Compressor Motor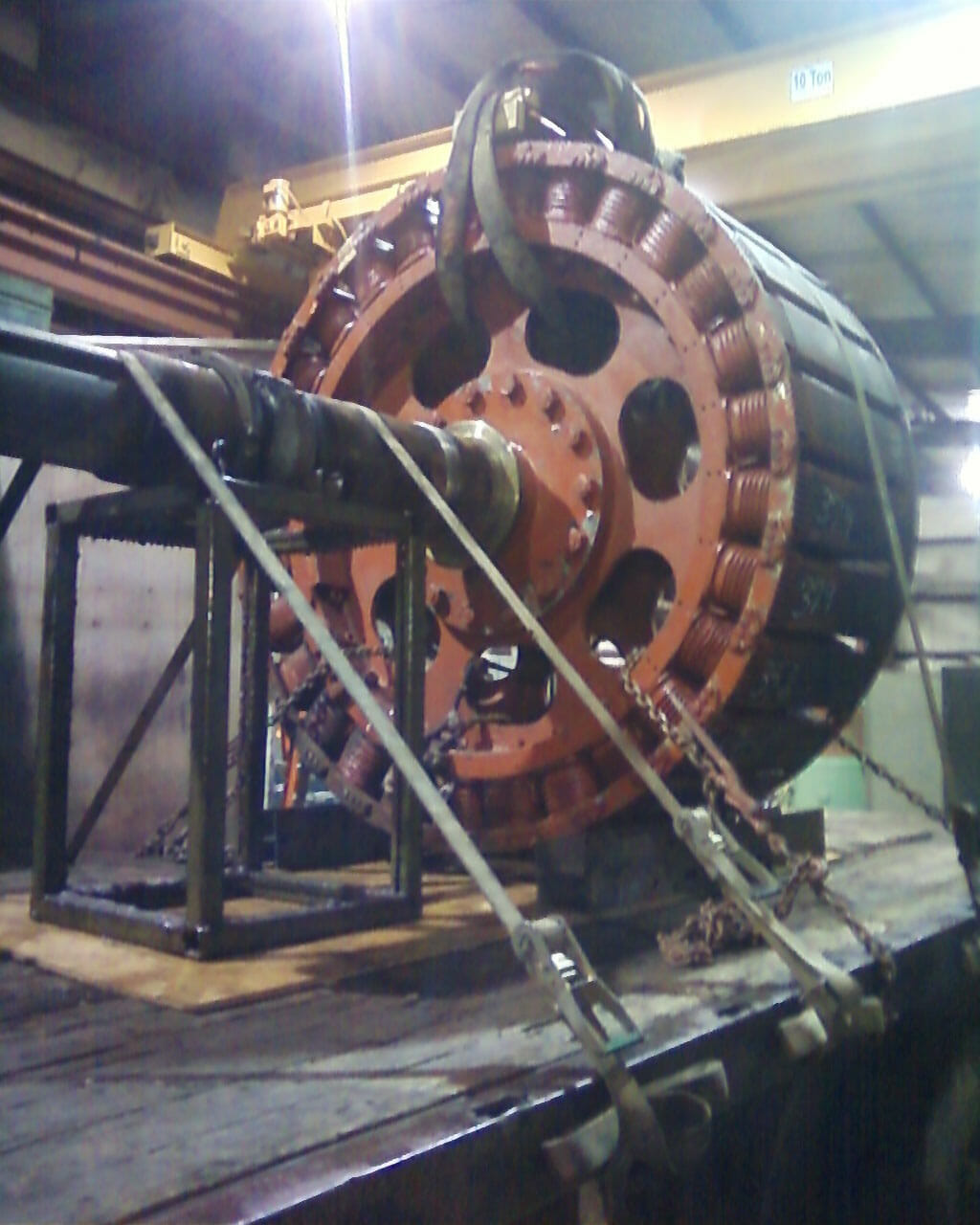 5000 hp Synchronous rotor
Synchronous motors have many moving parts and they all have to work in unison to create the proper RPM. If just one of them is not running properly, the motor will not operate as it should in service. Spina Enterprises' experienced technicians can test each component to reduce the time it takes to problem solve.
Synchronous motors come in all shapes and sizes. With our 35,000 square foot facility and 50-ton crane capacity, Spina Enterprises can handle AC motor repair up to 10,000 hp in-shop.
UL Authorized for Explosion Proof Motor Repair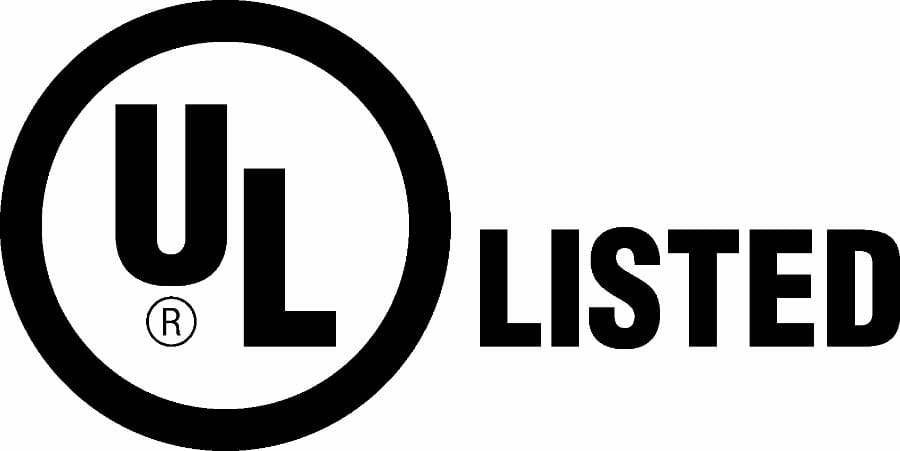 Spina Enterprises is authorized by Underwriter's Laboratories to repair explosion-proof motors that are designed for use in hazardous locations. Each motor is repaired to UL specifications before it is shipped.
The division and class of an explosion-proof motor are described on the UL tag installed on every motor. These motors are designed to contain any fire or spark that may be created during a catastrophic failure. This containment does not allow the elements surrounding the motor to ignite.
AC Stator Rewind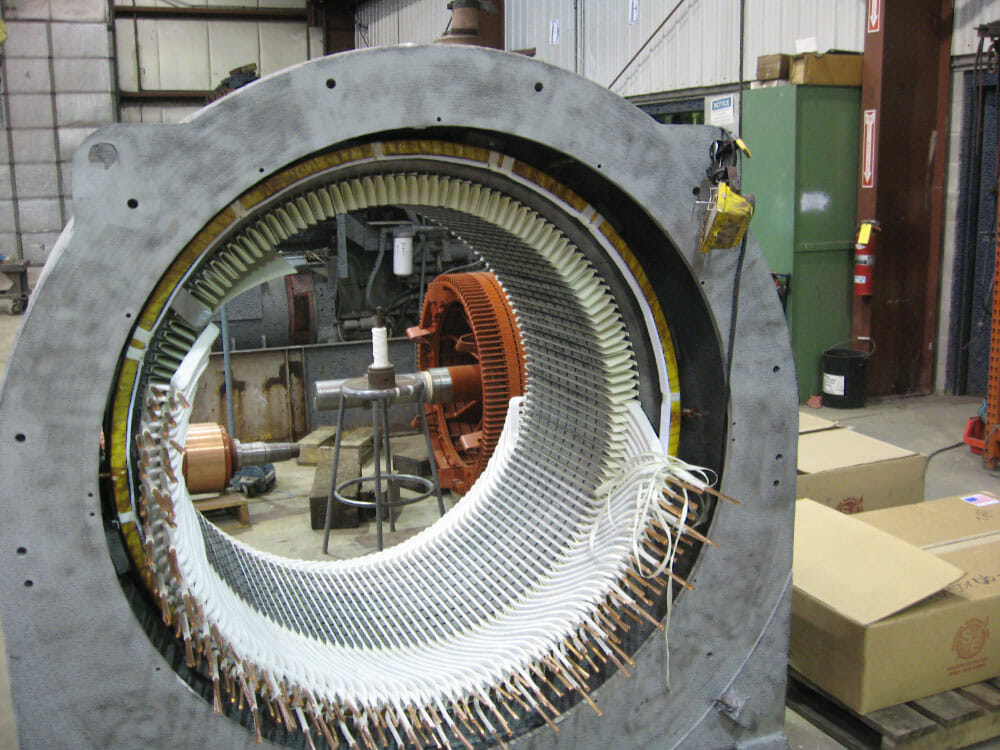 3000 hp AC Stator
If your AC motor repair involves rewinding, Spina Enterprises can rewind random or form wound stators. Following the installation of coils and connecting, the stator is placed in our 7-foot diameter Vacuum Pressure Impregnation (VPI) tank for varnish treating. This VPI cycle eliminates air gaps between the winding and the core, reducing the heat generation in the motor while in operation.