Hiring the right professionals for your electric motor rewinding is key to a successful rewind. Performed incorrectly, a rewind will be a frustrating experience that will cost more in the long run.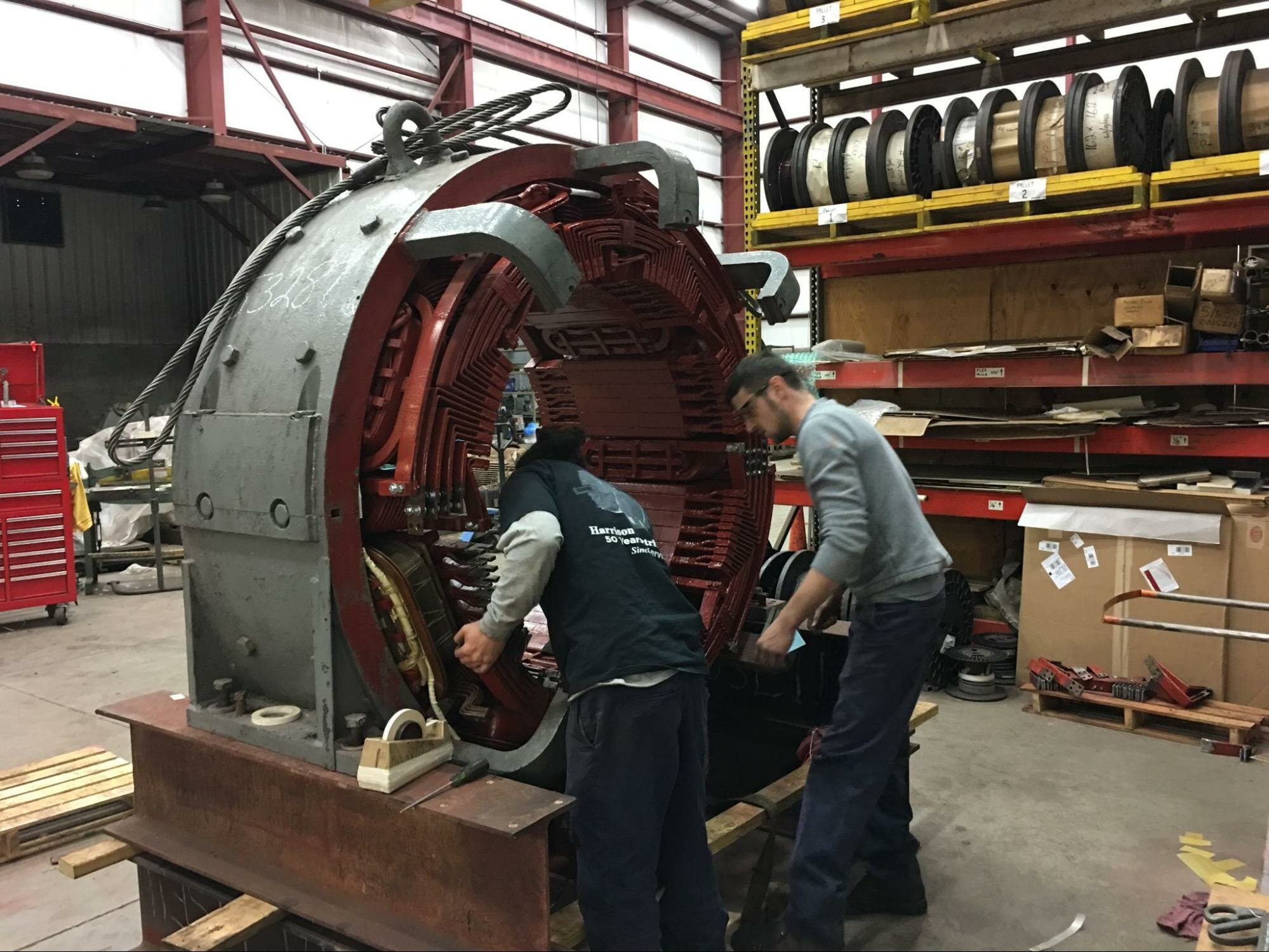 Spina Enterprises' technicians have over 100 years of collective experience rewinding motors. When your motor leaves our shop doors, it's fixed right.
We guarantee it!
Rewinding AC/DC electric motors is a specialty at Spina Enterprises.
Our experienced and skilled technicians are trained to:
Determine Root Cause of Failure
Caused by Motor or Application?
Reduce Possibility of Future Failure
When a motor fails, surprisingly, it is not always the motor's fault.
Sometimes there are external factors or 'applications' that can cause failure.
These factors include:
Current Overload
Voltage Spike
Load Stalling
Others Reasons
At Spina Enterprises we attempt to find the cause of failure for your motor so that after it is repaired and installed, the failure isn't duplicated.
AC Motor Rewind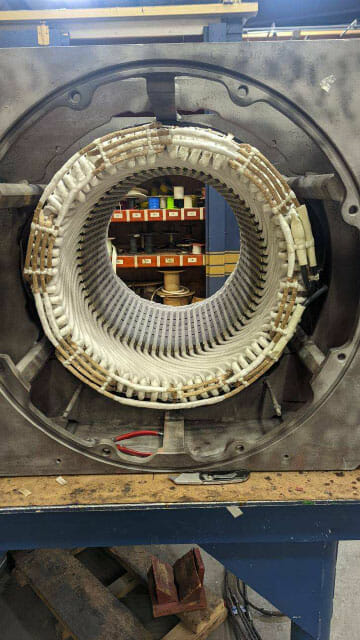 AC Form Wound Stator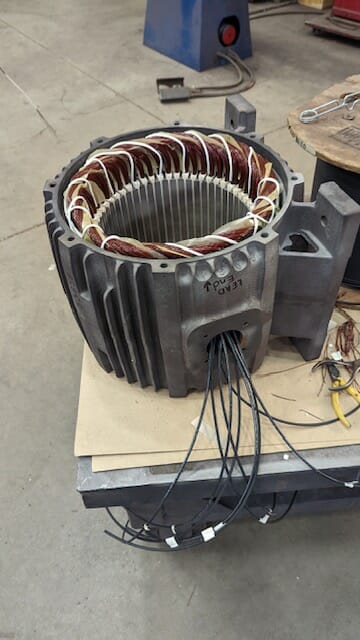 AC Random Wound Stator
Larger AC motors may cost more to replace than repair.
In these cases, Spina Enterprises can reduce downtime and save you money.

Our 2 shift operation has someone in our facility working from 6 AM to 10:30 PM Monday through Friday. These consecutive shifts reduce turnaround time for repair without the overtime expense.
DC Motor Rewind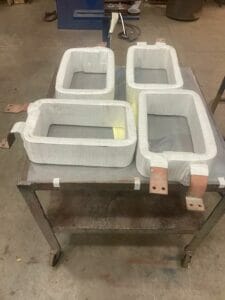 Including . . .
Fields, Series, Compoles, and Armatures
Re-insulate and/or rewind Brake coils, Transformer coils, and many others.
Vacuum Pressure Impregnate and bake all in-house.
Spina Enterprises' versatility allows us to rewind motors for all different types of applications.
This includes:
Vertical Pump Motors
Explosion Proof Motors (UL Listed)
Slip Ring Motors and Rotors
Metric Motors
Crane Motors
And many others…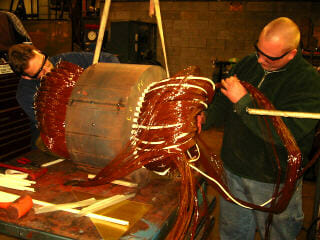 Rewinding coils on an AC Motor core that has been removed from the stator, prior to the varnish treatment
Vacuum Pressure Impregnation Process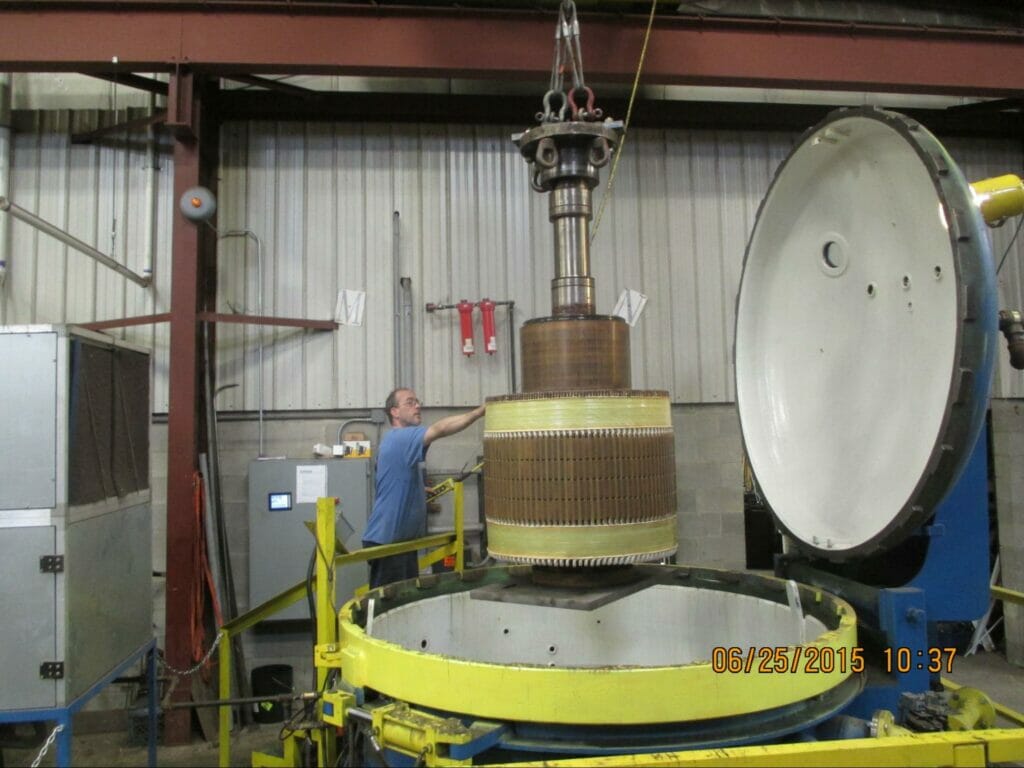 Vacuum Pressure Impregnation (VPI) – 7 feet Diameter and 10 feet Tall Tank
Vacuum pressure impregnation is a rewinding process in which you varnish treat a winding inside a pressure vessel that draws a vacuum. This vacuum draws all the air out of the unit being treated replacing the air with varnish. A stator or armature that has been VPI'd is left without air gaps between the winding and the core. Air gaps can cause excessive heat and unwanted stress on the insulation and the windings.
The motor rewind shop area at Spina Enterprises includes a 7-foot diameter, 10-foot tall VPI tank, capable of treating some of the largest electric motors.
The Finished Product
Once your motor has been expertly rewound, you will appreciate the results.
Your electric motor will:
Have an improved insulation resistance
Operate much more efficiently
You will have:
Saved considerable money as compared to replacing the motor
Contributed to a cleaner environment since the impact of rewinding a motor versus purchasing a new one will have been considerably reduced.
500Hp AC Motor