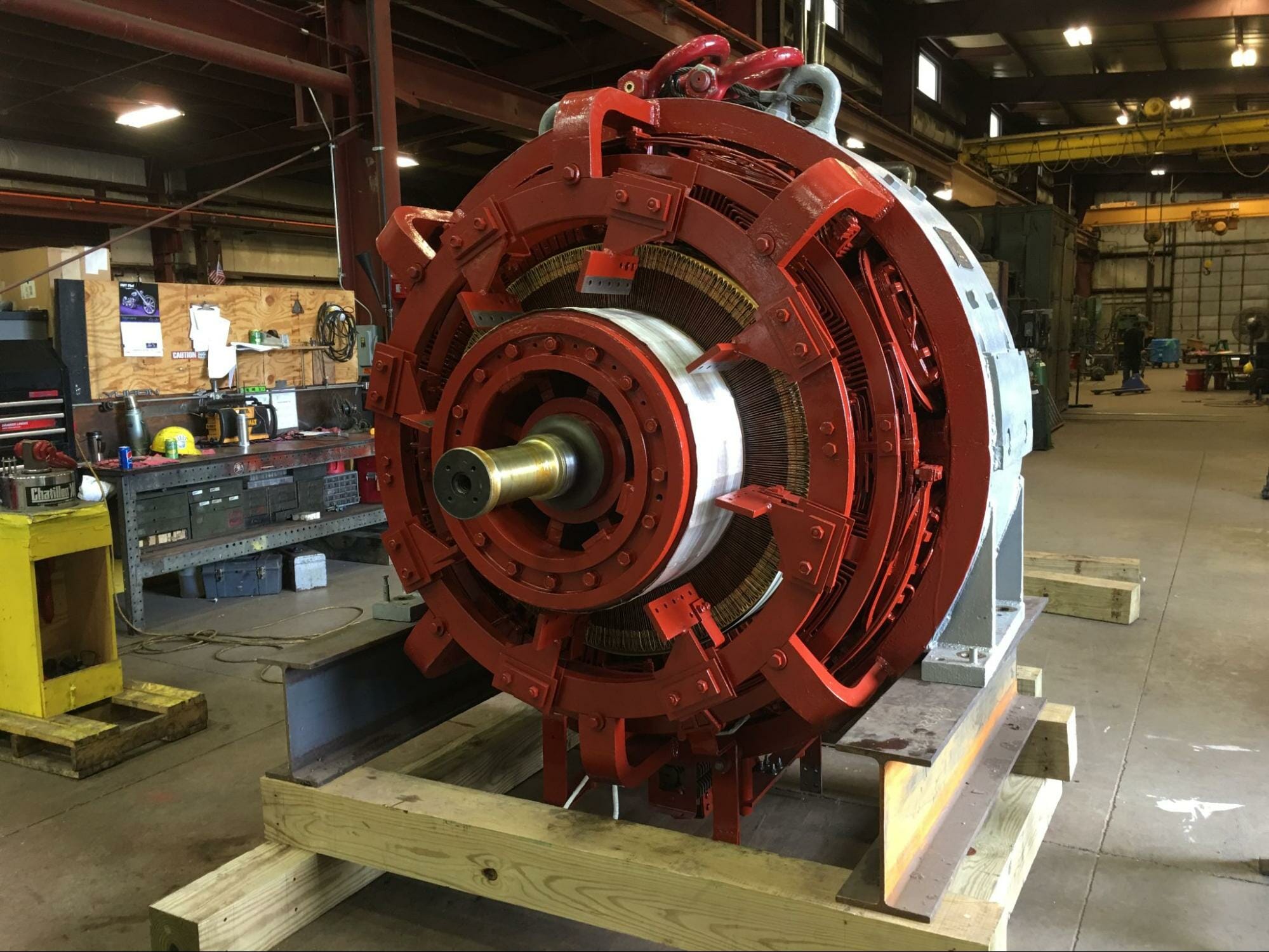 Spina Enterprises can assist you with your DC Motor and Generator Repair Needs
When your DC motor or generator is operating poorly – or not running at all – your first step is to call an experienced, qualified motor repair shop to see if it can be repaired.
At Spina Enterprises, we're not just an ordinary DC motor repair shop:
If you are in an emergency situation, we offer 24-hour emergency service.
Often a temporary replacement motor or generator can be located for your use until your own is fixed.
A custom machine shop for replacement parts is located inside our shop. This avoids delays in finding, shipping, or outsourcing hard-to-find parts needed to repair your motor – we simply make them ourselves.
Some Generator repairs can be carried out on-site.
For motor and generator repairs done right, contact Spina Enterprises.
DC Motor Repair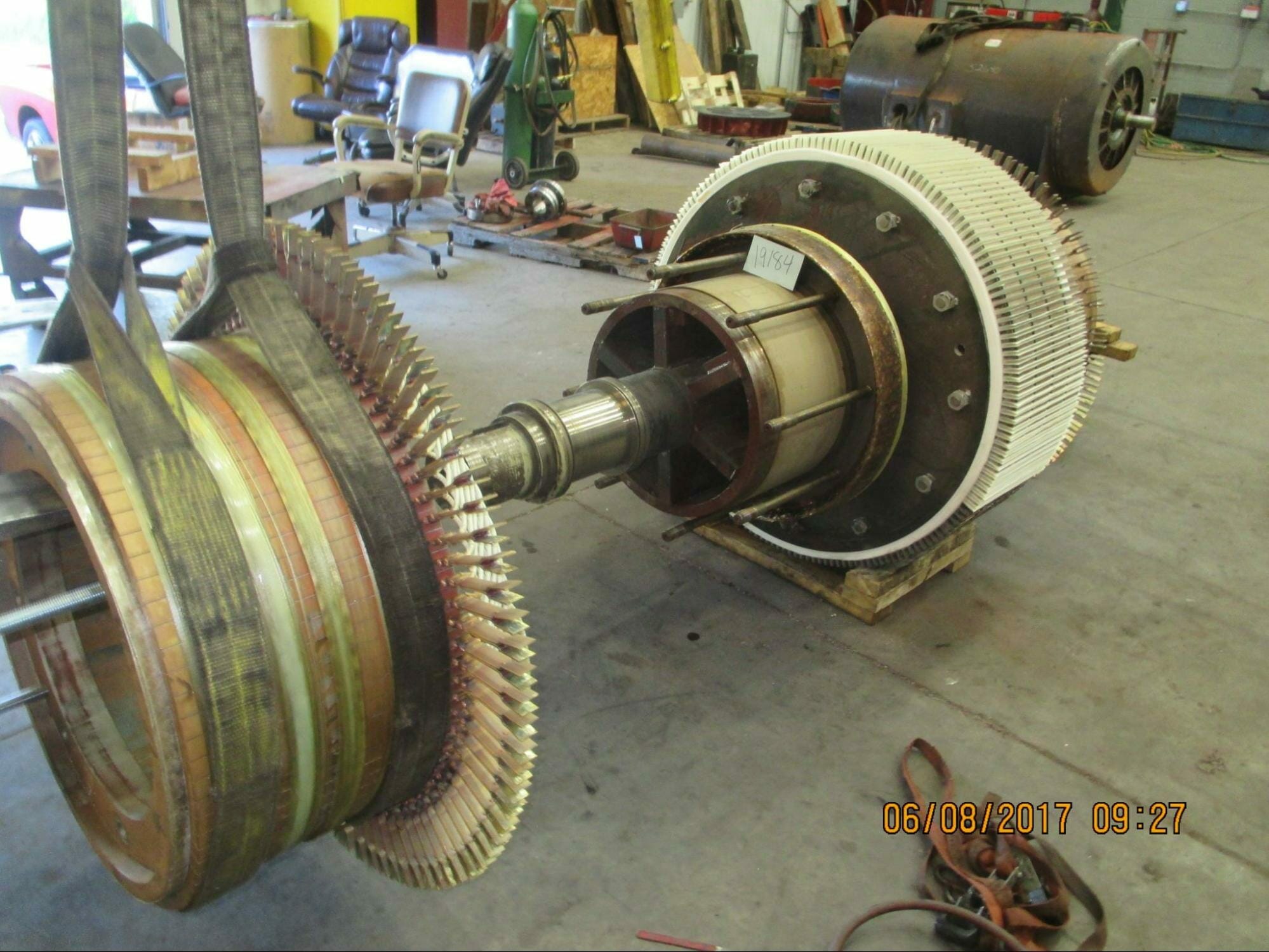 DC Armature with Commutator removed
From small to large, Spina Enterprises has completed repairs on most DC motors, mill motors and generators:
Armature
Tig welding
Turn and undercut commutator
Our rewind repairs include vacuum pressure impregnation, shaft machining or replacement, and even load testing. In fact, we load test every DC motor that leaves our facility.
Industrial Generator Repair
If your industrial generator is not putting out the correct voltage or current or has a mechanical issue, we can fix the problem. Whether the repair is carried out in-shop or on-site, we will solve the problem.
Some of the generator services we provide include:
Magnet generator repair
Generator armature repair
Generator load testing services (Yes, Magnet Generators are load tested too)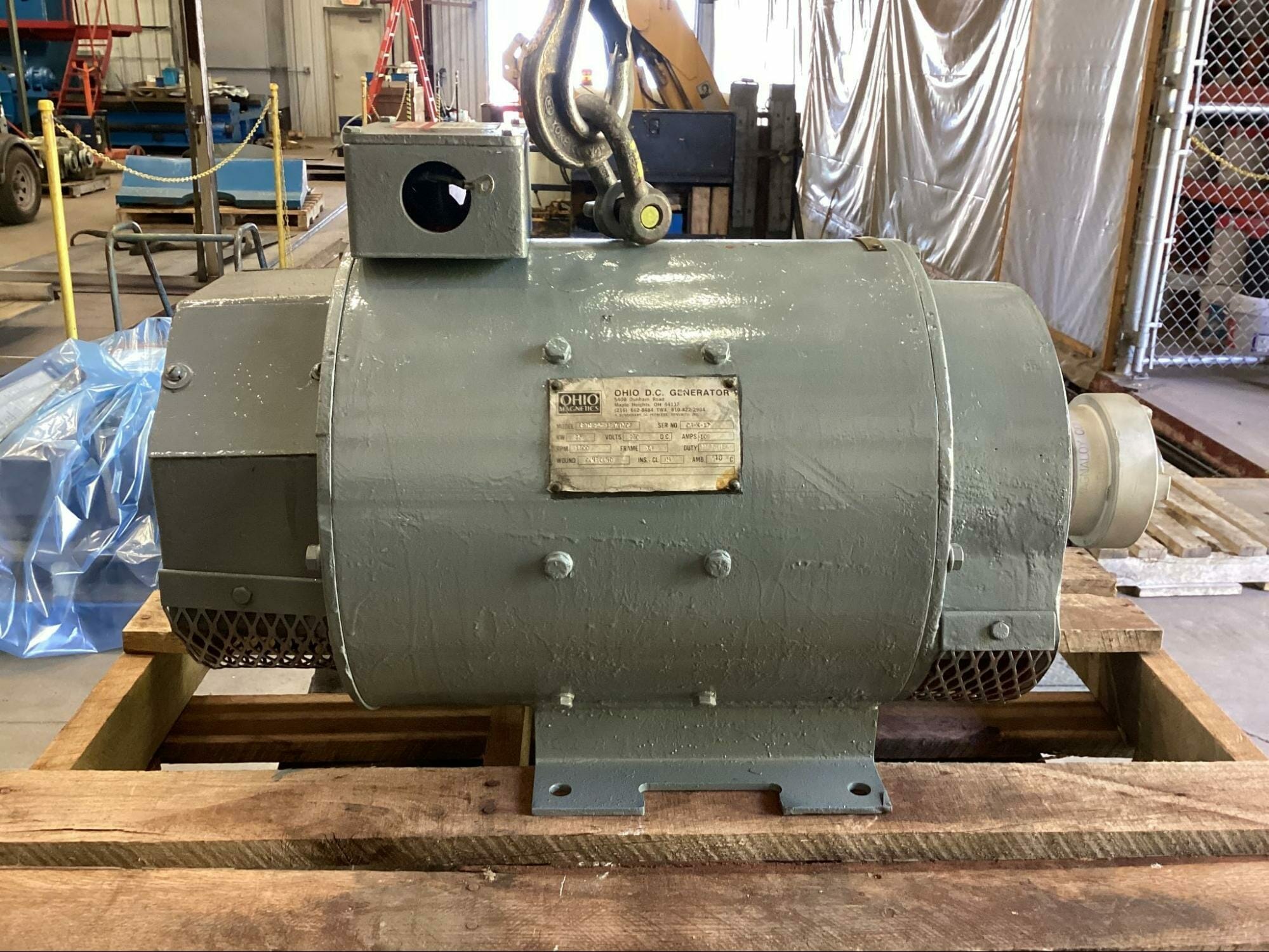 Magnet Generator
Finding Out What's Defective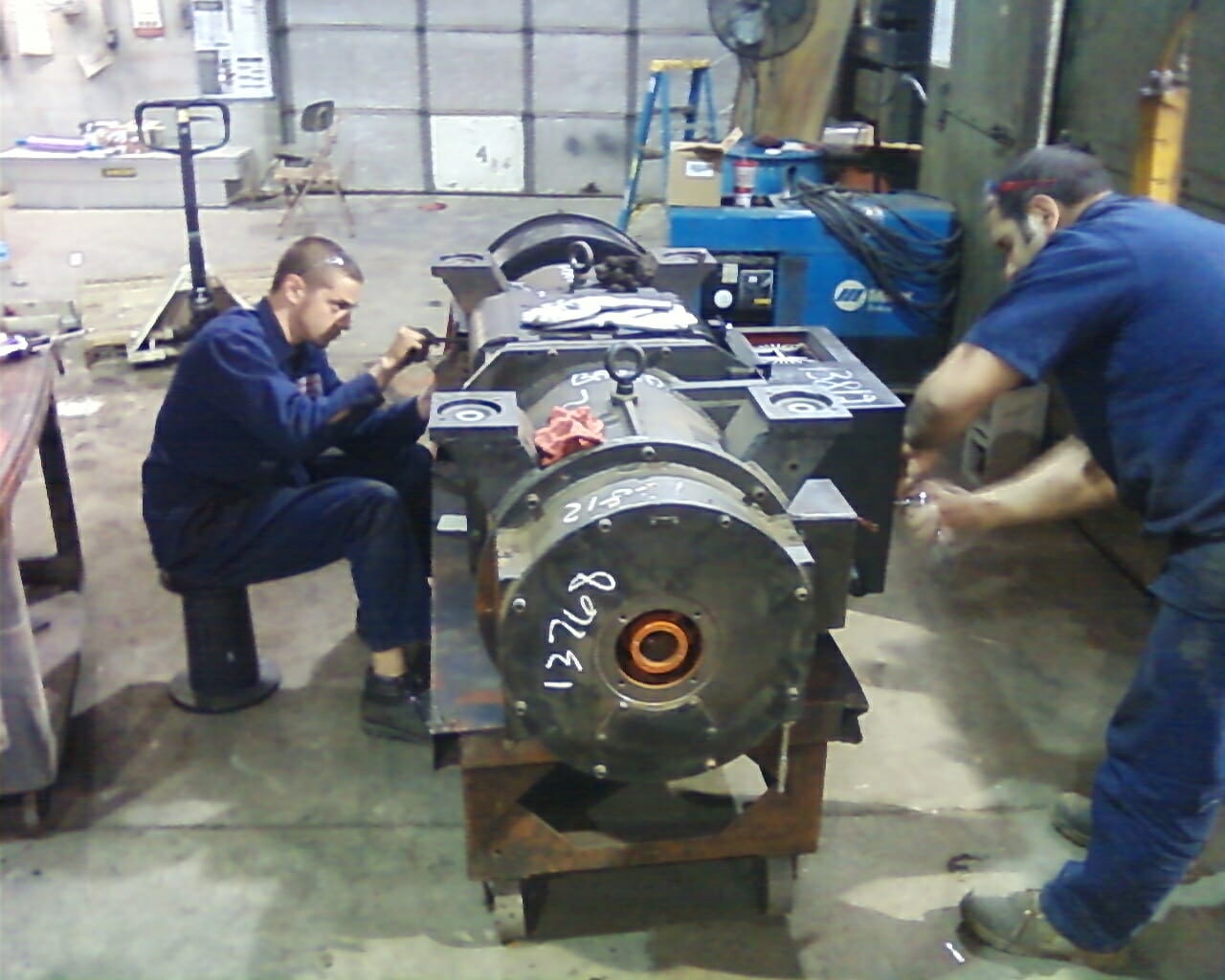 Motor Alternator Unit
DC motor repair starts with an inspection to determine what's required to get your equipment back up and running. Shorted Commutators can be diagnosed and repaired, turned, and undercut in-house or on-site.
Shorted or grounded Fields, Series, or Compoles can be rewound or reinsulated and reinstalled in-house. Brush Holders can be cleaned and reinsulated.
Some of the work we do to repair DC motors is outlined below.
DC Motor Rewinding
If it is determined that your motor requires rewinding, it means that the coils are grounded, shorted, or damaged. As one of the best motor rewinding shops in the area, you can trust your motor to Spina Enterprises for repairs done right.
Field and compole rewinding services are available 24 hours a day and are performed by technicians with over 30 years of experience in the motor repair industry. AC Stators, DC Armatures, and AC Wound rotor motors are wound and tested in-shop.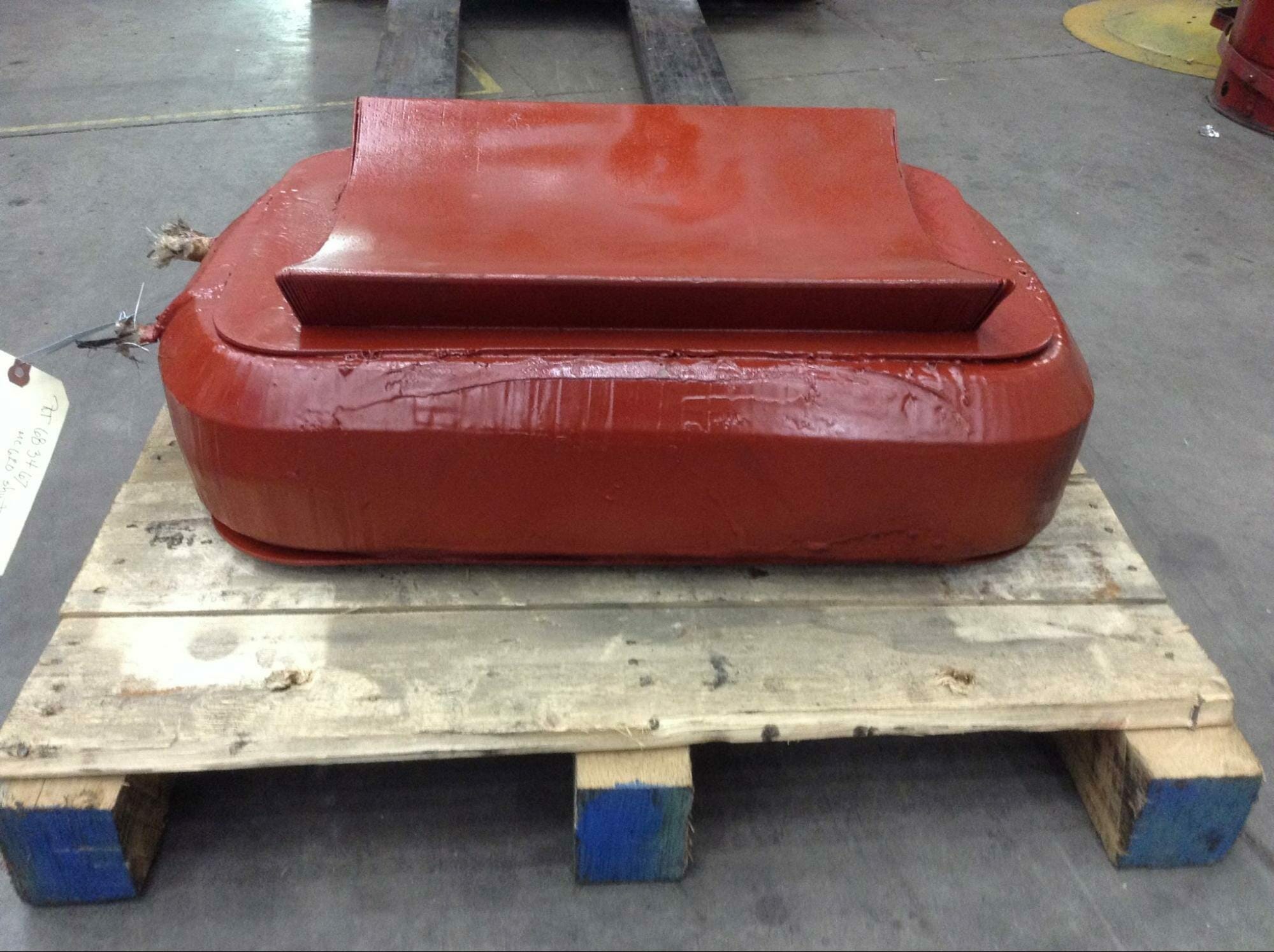 Rewound DC Field Coil
Dynamic Balancing
Balancing a 500 hp DC Armature
To provide smooth operation and reduce your motor's vibration to the absolute minimum, it may require dynamic balancing.
Dynamic balancing can be performed both in the field and at our shop. The balancing machines in our motor repair shop have a capacity of up to 10 tons.
Load Testing
Before you put your DC motor back into service, it is load tested on our 800 hp Dynamometer. This applies an electrical and mechanical load to simulate the load it will receive in your normal work environment.
This process provides assurance that the motor will withstand the loads you need to run an efficient and trouble-free operation.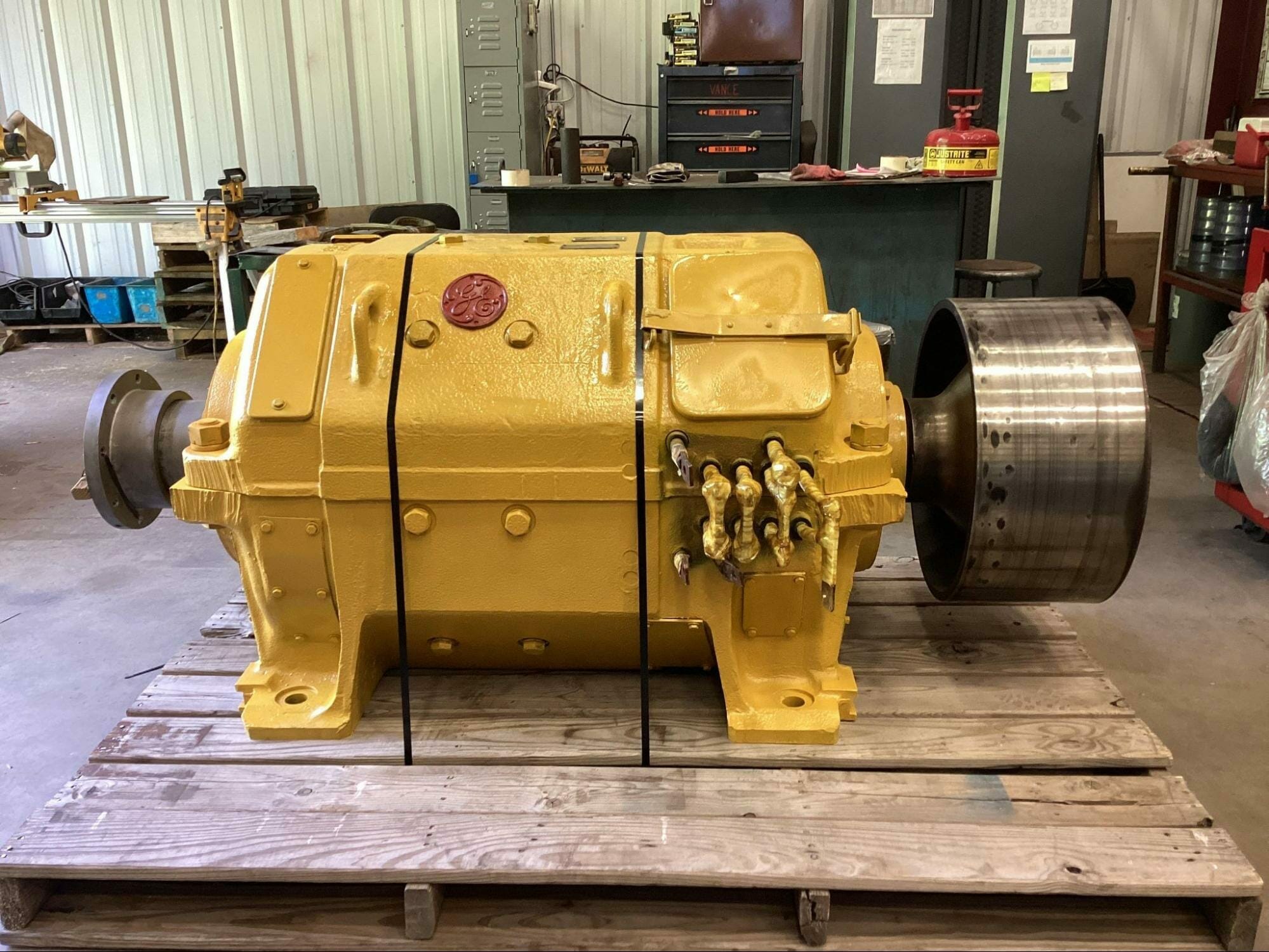 MD 616 Mill Motor
Custom Machine Shop for Replacement Parts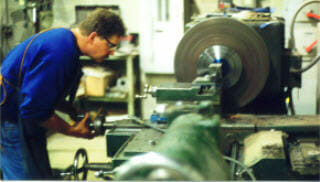 Machining a Coupling
Motors and generators often require hard-to-find, if not impossible-to-find replacement parts. Our in-house machinists can custom tool required parts for motors and generators we repair when the parts are not readily available.
Machining motor repair services include:
Boring and Sleeving
Weld Turn-cut Keyways
Nickel Plating
Shaft Manufacturing
Dynamic Balancing
Our In-house machine shop allows us to continue working on your repair through all hours of the night. This avoids spending valuable time waiting for replacement parts to be located, shipped, or custom-made elsewhere. Bringing in new equipment to meet the custom tooling requirements of different motors and generators results in a continued expansion of our facility. We are constantly growing to meet our customers' needs.