Exterior of Spina Enterprises main building
Spina Enterprises' industrial motor repair shop is a 35,000-square-foot facility just off I-94 in Michigan City, Indiana. An additional 5,000-square-foot building is on the premises, just across the parking lot. We repair AC and DC motors up to 10,000 hp and offer additional services such as welder repair, switchgear repair and maintenance, preventive maintenance, and used motor sales. A two-shift operation places someone in the shop until 10 PM CST. There are phone numbers on our voicemail for those requiring Emergency Service.
We repair motors of all sizes. But if you're wondering if our facility can support your largest industrial motors, here is a list of the equipment we have to move your motors both in and outside the shop.
40 Ton Crane With 50-Foot High Bay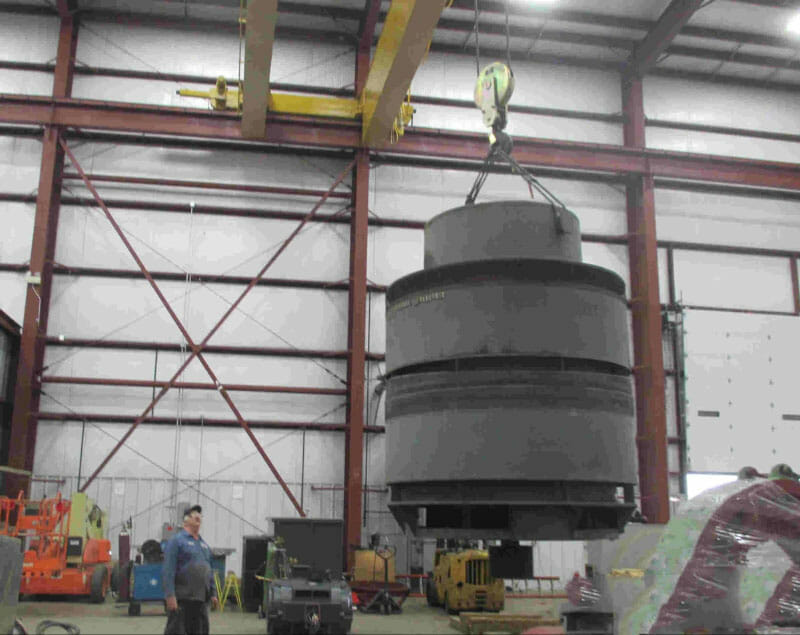 800 hp Vertical Pump Motor on 40-ton crane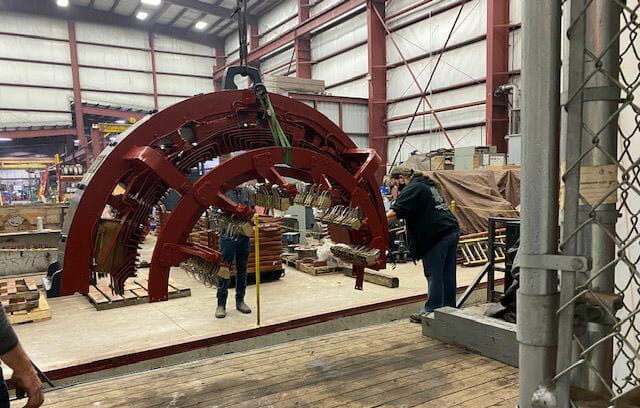 Top half of 3000 KW generator field frame being loaded for delivery.
The largest of 5 cranes in our facility can carry 40 tons in a 50-foot High Bay.
The other 4 crane rails have been extended and are now able to travel into the high bay as well. We also have a 4-foot recessed truck dock.
Trucks That Carry up to 10 Tons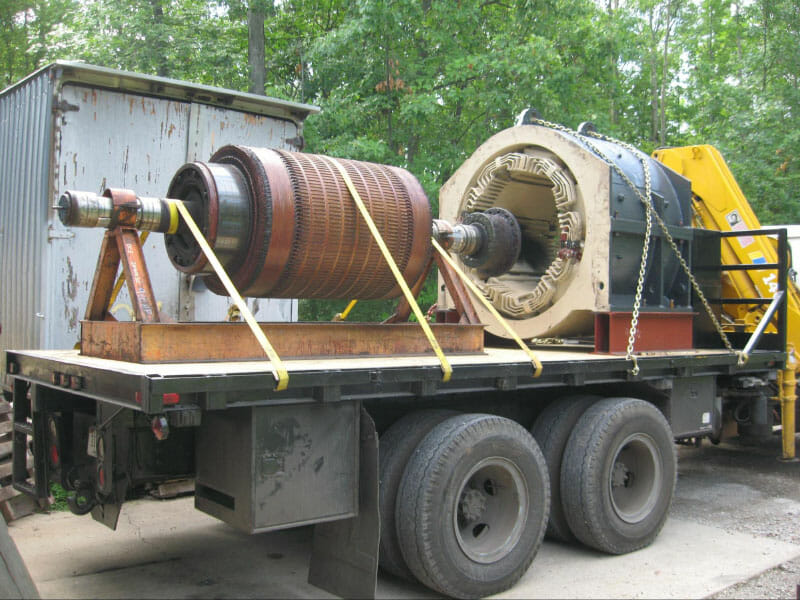 2000 KW Generator
We pick up and deliver to our Michigan City, IN facility. Our trucks can carry up to 10 tons. If your motor is larger than what our trucks can handle, we can make arrangements with freight companies to get it here.
Our general delivery service area includes Indiana, Michigan, and Illinois, but we also ship all over the country. The shop is located right next to I-94 for quick access.
Bake Ovens and VPI Tank
Our Vacuum Pressure Impregnation tank is 7 feet in diameter and can fit a 10-foot long shaft. We have 2 bake ovens and a burnout oven. Our largest bake oven measures 11 feet x 11 feet x 11 feet.
On the Horizon
Currently under construction is an additional bake oven that will measure 13 feet wide x 14 feet high x 25 feet long. A rail system to move equipment in and out of the ovens is also in the planning stages. Completion of the larger oven is expected by mid-2023.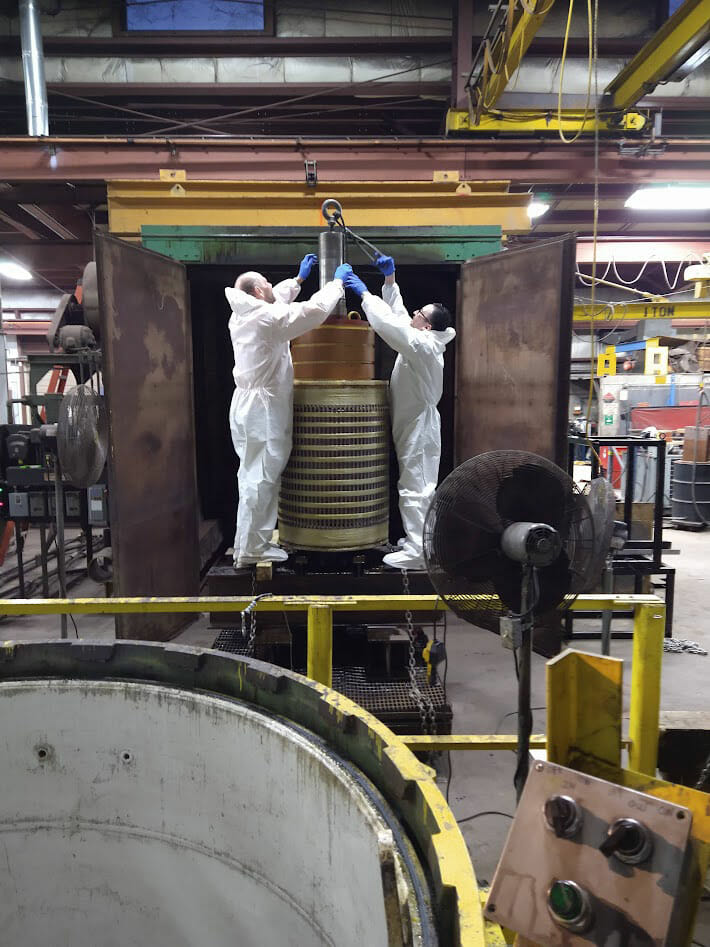 Existing Bake Oven 11 x 11 x 11
In-House Machine Shop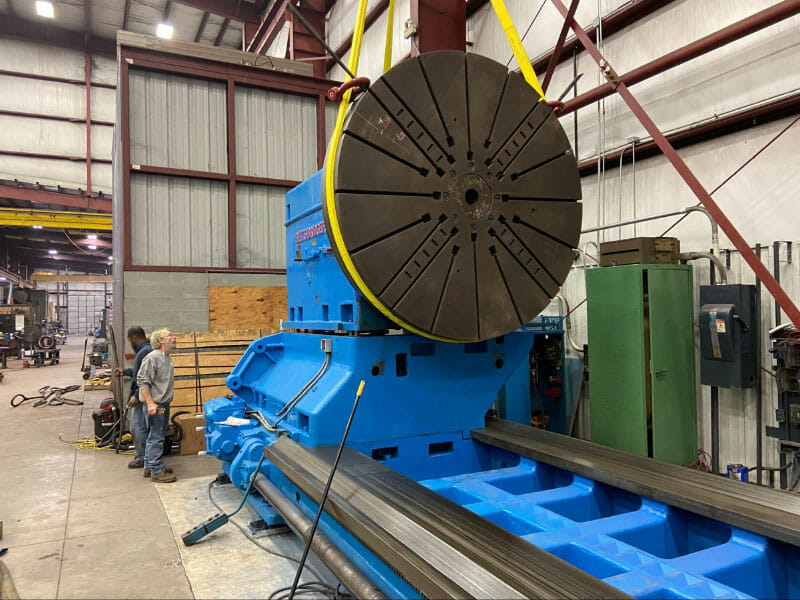 Our most recent addition – Lathe with 12 Foot Swing
Spina Enterprises is pleased to have its own in-house machine shop with multiple lathes, a horizontal boring mill, balancers, and a 600-ton press.
Our smallest lathe can swing 12" and our largest lathe can swing 12 feet 8 inches with 20 feet between centers. The capabilities of this shop reduce the turnaround time and expense of sending repairs to another vendor.
800 hp Dynamometer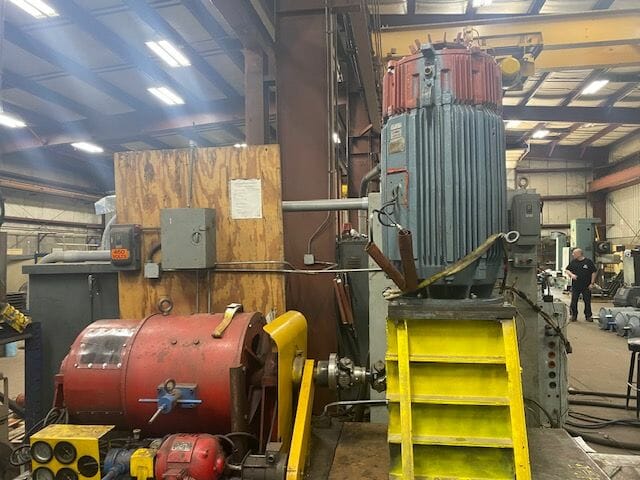 800 hp Dynamometer connected to AC Vertical Motor
Every DC Motor that leaves the facility gets load-tested prior to shipment. A DC motor can run with no load forever and not give off sparks. Load testing is the only way to make sure everything is correct.
1,000 lb. to 10,000 lb. Balancers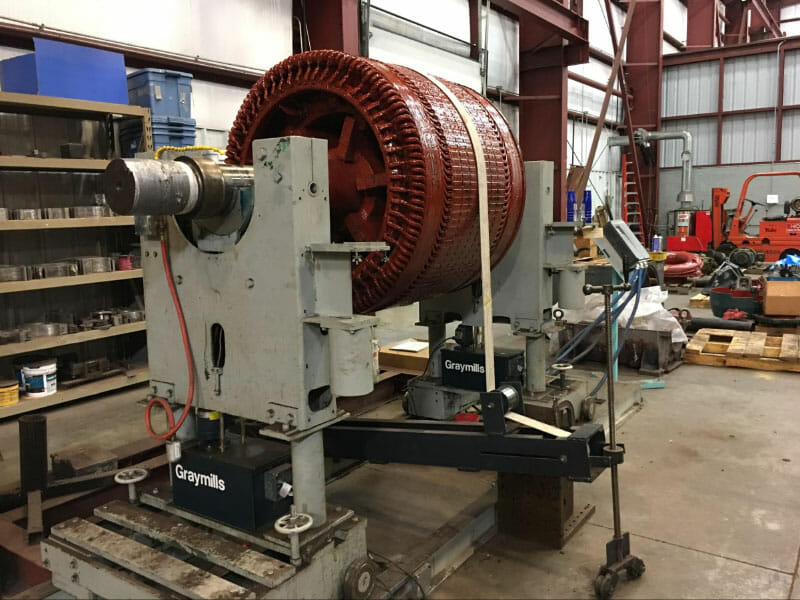 The motor on a 10,000 lb Balancer
1,000 lb., 5,000 lb., and 10,000 lbs balancers are at your service at Spina Enterprises. We can also balance rotating equipment on-site using other vibration equipment.